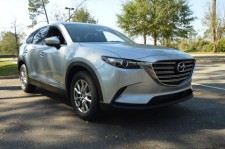 Myrtle Beach, SC, December 15, 2016 (Newswire.com) - Beach Mazda sure has some great news to share! In a blog post posted just yesterday on their website BeachMazda.net, a staff writer gave us some really good information about Mazda's SKYACTIV Technology and fuel efficiency.
Beach Mazda also let everyone know that Mazda was recently named as the most fuel efficient vehicle maker in the US according to the Environmental Protection Agency. Beach Mazda thought this was news that everyone who like saving money and fuel would like to hear!
The writer highlighted how Mazda's SKYACTIV Technology is available across Mazda's entire vehicle lineup. Quoting the blog post "If you're not familiar with Mazda's SKYACTIV technology, it's a suite of of engineering and component technologies that are aimed at cutting vehicle weight and improving engine efficiency." How awesome is that? You can read the original blog post by clicking the link below.
SKYACTIV Technology & Fuel Efficiency
Beach Mazda is certainly honored to be able to offer vehicles that are manufactured with such great technology and fuel efficiency. They know everyone loves to save money on fuel for the cars.
About Beach Automotive Group
Beach Automotive Group is the largest Ford, Lincoln, Mazda and Volvo dealership in Myrtle Beach, SC. Not only do they sell and service those brands, they also have a large variety of pre-owned and Certified Pre-Owned vehicles, all in one central location. Beach Automotive Group also offers a wide range of services to help more people in more ways. Their financing team will use all their resources to get drivers approved for more money at better rates.
Beach Automotive Group was established in 1995 in order to help car buyers in Myrtle Beach, SC and surrounding areas find and purchase their perfect vehicle. BeachMazda.net was updated and enhanced in April 2016 in the hope of making the car buying process easy and as uncomplicated as possible for the car-buying consumer.
For more information about Beach Automotive Group, Beach Mazda or BeachMazda.net, please contact Nick Domino at (843) 626-3666 or email at ndomino@beachautomotive.com.
Source: Beach Mazda
Share: