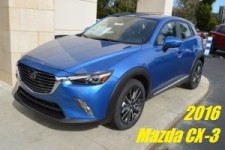 Myrtle Beach, SC, September 15, 2016 (Newswire.com) - In a recent post on the Beach Mazda Blog, Beach Mazda announced that four Mazda vehicles were included in four of Kelley Blue Book's and KBB.com's "10 Best" lists as segment standouts! Beach Mazda noted that the 2016 MX-5 Miata was named among the Favorite New-for-2016 Cars. They went on to discuss how the the 2016 Mazda CX-5 was named as one of the 10 Best AWD vehicles under $25k and how the 2016 Mazda3 was named as one of the 10 Best Sedans under $25K. Beach Mazda was also proud to let everyone know how the 2016 Mazda CX-3 was listed among the 10 Most Affordable SUVs of 2016! They were very happy to let let everyone know how great this honor is and how each of these vehicles can be viewed by the public. To read the original Beach Mazda Blog post, click the link below.
Best Mazda Vehicles According to KBB.com
Beach Mazda was very eager to share this great news and hope members of the community will call or stop by the dealership to learn more about them. In the blog post, Beach Mazda announced that each of the vehicles named in the lists are available to browse right on Beach Mazda's easy to use website BeachMazda.net and in person right on the lot.
Beach Automotive Group is the largest Ford, Lincoln, Mazda and Volvo dealership in Myrtle Beach, SC. Not only do they sell and service those brands, they also have a large variety of pre-owned and Certified Pre-Owned vehicles, all in one central location. Beach Automotive Group also offers a wide range of services to help more people in more ways. Their financing team will use all their resources to get drivers approved for more money at better rates.
For more information about Beach Automotive Group, Beach Mazda or BeachMazda.net, please contact Nick Domino at (843) 626-3666 or email at ndomino@beachautomotive.com.
Beach Automotive Group was established in 1995 in order to help car buyers in Myrtle Beach, SC and surrounding areas find and purchase their perfect vehicle. BeachMazda.net was updated and enhanced in April 2016 in the hope of making the car buying process easy and as uncomplicated as possible for the car-buying consumer.
Source: Beach Mazda
Share: