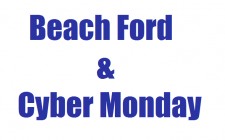 Myrtle Beach, SC, November 17, 2016 (Newswire.com) - Beach Ford is ready to give their customers one heck of a holiday shopping experience! In a recent blog post on their website, Beach Ford gave their customers some pretty remarkable information about Cyber Monday. Last year, they were taken by surprise by the demand for car sales via their website on the Monday after the Thanksgiving holiday.
This year, they want everyone to know that after updating their website earlier this year, they are ready and prepared to help all of their customers take advantage of all their website has to offer. They also want everyone to know that they have a whole department simply devoted to internet sales. Beach Ford has knowledgeable staff online just waiting to help car buyers navigate the Beach Ford website, answer customer questions and help the customer through the online car buying process. The dealership really wants to make online car buying simple and efficient for their shoppers. You can read the original blog post here:
Cyber Monday: Beach Ford is ready to help you!
It looks like the folks at Beach Ford are really getting ready for the holidays! Beach Ford knows how easy their website is to use and how much information it provides. They have purposely developed it to be the most helpful car buying website on the internet.
Beach Automotive Group is the largest Ford, Lincoln, Mazda and Volvo dealership in Myrtle Beach, SC. Not only do they sell and service those brands, they also have a large variety of pre-owned and Certified Pre-Owned vehicles, all in one central location. Beach Automotive Group also offers a wide range of services to help more people in more ways. Their financing team will use all their resources to get drivers approved for more money at better rates.
For more information about Beach Automotive Group, Beach Ford or BeachFord.net, please contact Nick Domino at (843) 626-3666 or email at ndomino@beachautomotive.com.
Beach Automotive Group was established in 1995 in order to help car buyers in Myrtle Beach, SC and surrounding areas find and purchase their perfect vehicle. BeachFord.net was updated and enhanced in 2016, in the hope of making the car buying process easy and as uncomplicated as possible for the car-buying consumer.
Source: Beach Ford
Share: