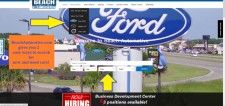 Myrtle Beach, SC, June 30, 2016 (Newswire.com) - Beach Automotive Group and BeachAutomotive.com have recently realized that some third party car buying websites are not as helpful as they claim to be. In one instance, they compared TrueCar.com to their own website, BeachAutomotive.com. Researchers at Beach Automotive determined that their own website was the most helpful for car buyers in the Myrtle Beach, Grand Strand and surrounding areas. They realized that websites such as TrueCar.com may not offer ALL the money saving deals in a customer's hometown.
Using BeachAutomotive.com allows car buyers in Myrtle Beach, Conway, Georgetown, Florence and even Wilmington, NC, to find ALL the fantastic money saving discounts and incentives available to them! Dealership representatives have even received comments about how easy BeachAutomotive.com is to use for the average Internet user. BeachAutomotive.com allows customer to freely browse their inventory without agreeing to privacy policies or terms of service, unlike TrueCar.com. Beach Automotive Group has designed their website in such a way as to be easy to use for their customers and give the customer the best information available. You can read more about their discovery by clicking the link below.
True Car: How does it really work?
Beach Automotive Group and BeachAutomotive.com are excited to share this new information with everyone and highly recommend heading over to BeachAutomotive.com to search for your new car right now!
Beach Automotive Group is the largest Ford, Lincoln, Mazda and Volvo dealership in Myrtle Beach, SC with the largest variety of pre-owned and Certified Pre-Owned vehicles, all in one central location. Beach Automotive Group also offers a wide range of services to help more people in more ways. Their financing team will use all their resources to get drivers approved.
For more information about Beach Automotive Group or BeachAutomotive.com, please contact Nick Domino at (843) 626-3666 or email at ndomino@beachautomotive.com.
Beach Automotive Group was established in 1995 in order to help car buyers in Myrtle Beach, SC find and purchase their perfect vehicle. BeachAutomotive.com was updated and in 2016 in order to make the car buying process easy and as possible for everyone.
Source: Beach Automotive Group, BeachAutmotive.com
Share: