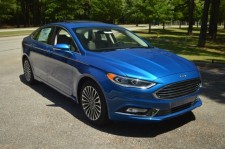 Myrtle Beach, SC, October 20, 2016 (Newswire.com) - Beach Automotive is at it again! They are on a mission to save their customers money in any way they possibly can. One way they are doing it is to highlight the value of both the 2017 Ford Fusion SE and the 2017 Ford Escape SE.
In a recent blog post, the dealership discussed the way in which both vehicles have been updated for the new model year. They also provided some incredible graphics that really show how the value of each of these vehicles has increased over models released five years ago. Beach Automotive Group really wants to let everyone know how far their dollars will stretch when purchasing a new 2017 Ford Fusion SE or the 2017 Ford Escape SE. They truly believe consumers will get more bang for their bucks! To read the original blog post, click the link below:
Value is the name of the game!
It's easy to see how excited Beach Automotive Group is about showing the value in the vehicles they sell. The dealership also wants to let everyone know they can now call to schedule a VIP Test Drive Experience when inquiring about purchasing a new vehicle.
About Beach Automotive Group
Beach Automotive Group is the largest Ford, Lincoln, Mazda and Volvo dealership in Myrtle Beach, SC. Not only do they sell and service those brands, they also have a large variety of pre-owned and Certified Pre-Owned vehicles, all in one central location. Beach Automotive Group also offers a wide range of services to help more people in more ways. Their financing team will use all their resources to get drivers approved for more money at better rates.
Beach Automotive Group was established in 1995 in order to help car buyers in Myrtle Beach, SC and surrounding areas find and purchase their perfect vehicle. BeachAutomotive.com was updated and enhanced in April 2016 in the hope of making the car buying process easy and as uncomplicated as possible for the car-buying consumer.
For more information about Beach Automotive Group or BeachAutmotive.com, please contact Nick Domino at (843) 626-3666 or email at ndomino@beachautomotive.com.
Source: Beach Automotive Group
Share: