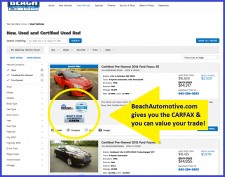 Myrtle Beach, SC, June 30, 2016 (Newswire.com) - Beach Automotive Group and BeachAutomotive.com have been hard at work making sure their website is the leading website for those searching for new, used and certified pre-owned cars. They have been doing a large amount of research to find the best ways to help people who are in the market for a new or pre-owned vehicle. They have been comparing their website to other websites on the Internet and have found that many of those are quite useful. In the process, Beach Automotive learned that Autotrader's website is simple to use and provides detailed information about the cars. Knowing this, they have developed their own website to do the very same thing! Actually, BeachAutomotive.com has been providing an easy, stress free car buying experience for over 20 years! Now, customers have no need to look elsewhere on-line for a vehicle's history, incentives, deals or prices. All the information a car buyer needs can be found in one place: BeachAutomotive.com! BeachAutomotive.com also offers live help through their website from people who are actually sitting at the dealership and know the vehicles the best!
Beach Automotive Group and BeachAutomotive.com have realized the importance of streamlining the car buying process. They wholeheartedly strive to provide the perfect car buying experience to everyone who looks them up on-line and/or walks through the door of the dealership. They also want everyone to go to BeachAutomotive.com right now to see how easy the search for a new car really is.
BeachAutomotive.com: Perfect Car Buying!
Beach Automotive Group is the largest Ford, Lincoln, Mazda and Volvo dealership in Myrtle Beach, SC with the largest variety of pre-owned and Certified Pre-Owned vehicles, all in one central location. Beach Automotive Group also offers a wide range of services to help more people in more ways. Their financing team will use all their resources to get drivers approved.
For more information about Beach Automotive Group or BeachAutomotive.com, please contact Nick Domino at (843) 626-3666 or email at ndomino@beachautomotive.com.
Beach Automotive Group was established in 1995 in order to help car buyers in Myrtle Beach, SC find and purchase their perfect vehicle. BeachAutomotive.com was updated and in 2016 in order to make the car buying process easy and as possible for everyone.
Source: Beach Autmotive Group, BeachAutmotive.com
Share: